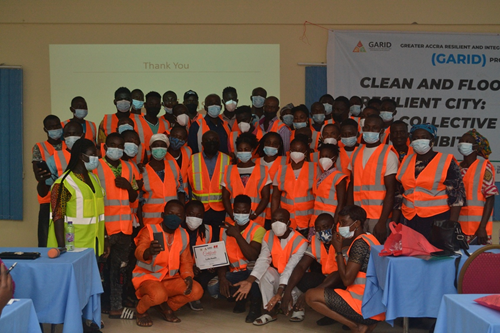 The Greater Accra Resilient and Integrated Development (GARID) Project has distributed Personal Protective Equipment (PPEs) to some Informal Waste Sector (IWS) workers in Accra.
The presentation was made during an Occupational Health and Safety training workshop organized by the Project for the informal waste workers.
In his opening remarks, the Project Coordinator, Dr Ohene Sarfoh, said the training is part of activities of the GARID Project geared towards improving litter management, waste recovery and strengthening municipal governance for Solid Waste Management in the Greater Accra Metropolitan Area (GAMA)
The participants drawn from diverse Informal Waste Sectors were taken through various occupational health and safety issues including the hazards of the Informal Waste workers and how to control them, common diseases and injuries associated with waste workers, PPEs for waste workers and how to maintain them, as well as immunization, health insurance and first aid for waste workers.
The participants expressed huge satisfaction about the workshop stressing that lessons learnt will help them execute their works in a healthy and safe manner. As Lydia Bamfo, the National Chairperson of Informal Waste Workers Association, puts it, "This training workshop is timely. We are exposed to lot of hazards about our works and how to handle them. I can assure you that we the executives of the Informal Waste Workers will encourage our members to apply the lessons learnt from the workshop in our works."
The PPEs distributed to the waste workers include hand gloves, reflective vest and nose masks. The Solid Waste Management Specialist of the GARID project, Henrietta Osei-Tutu hinted that the GARID Project, the Ministry of Sanitation and Water Resources (MSWR) and the Metropolitan, Municipal and District Assemblies (MMDAs) will undertake continuous handholding support to enable informal workers support the government's agenda for a Clean Accra. She urged the beneficiaries to put the equipment to good use in their daily works.