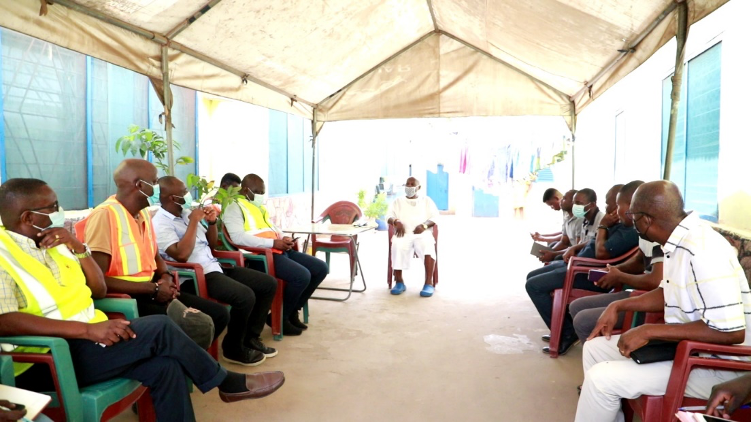 The Greater Accra Resilient and Integrated Development (GARID) Project has commenced detailed engineering designs for upgrading basic infrastructure in three highly flood prone communities in Accra -Nima, Alogboshie and Akweteyman.
The proposed upgrading works, which will include construction of drains, access roads, alley ways, streetlights, and solid waste management infrastructure, is aimed at reducing the three communities' vulnerability to flooding and enhancing access to basic infrastructure and services in these communities.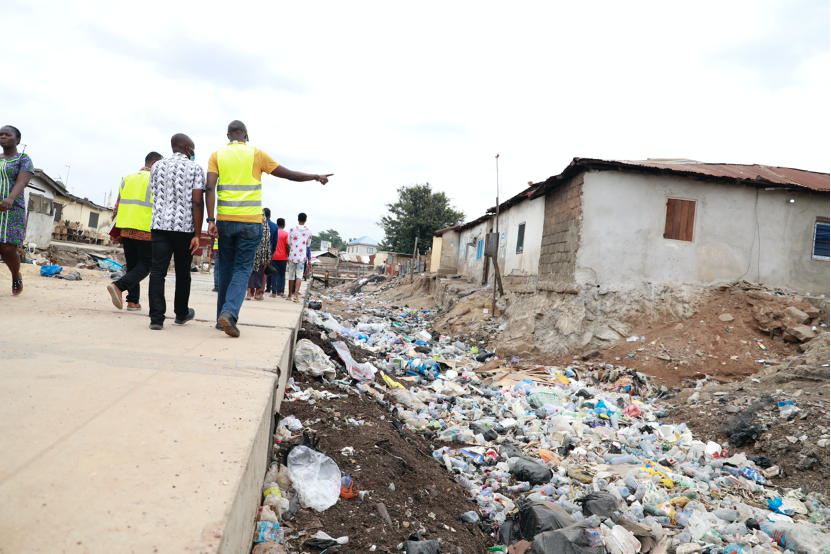 Separate meetings were held by the GARID team with community leaders including Traditional Authorities to formally introduce the detailed engineering design consortium led by SWS Consulting Engineers to the communities. The Slum Upgrading and Community Development Specialist of the GARID Project, Joe Ampadu-Boakye appealed to the chiefs and residents of the three communities to support and cooperate with the consortium stressing, "The GARID project cannot succeed in upgrading the infrastructure in the beneficiary communities without the support and cooperation of the chiefs and key stakeholders in those communities."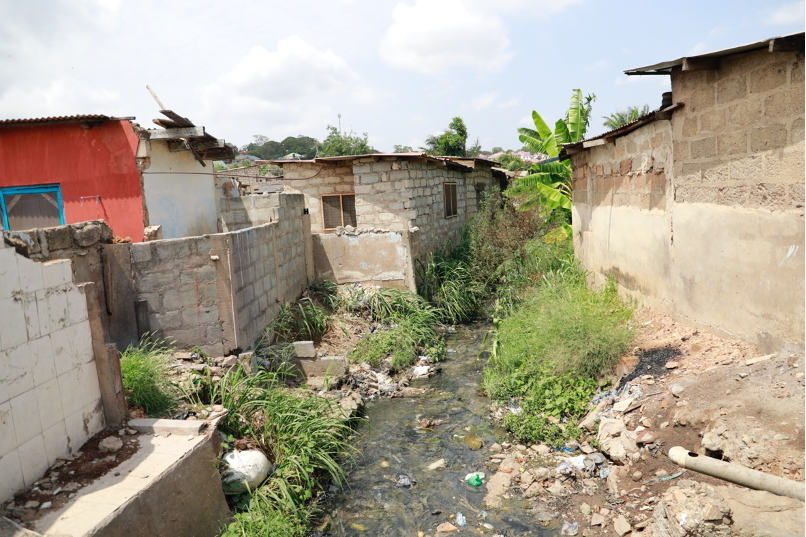 The chiefs and opinion leaders in all three communities were excited about the proposed upgrading works and expressed their appreciation to the Ghana Government for selecting their communities to benefit from the project. "We are grateful for these important interventions in our community. I can assure you of our support. The only thing we need from the project is to strengthen its communication with us so we can be aware of the progress of work in the communities" says the chairman of the tribal chiefs in Nima, Alhaji Seidu H. Fuseini (Chief Louise).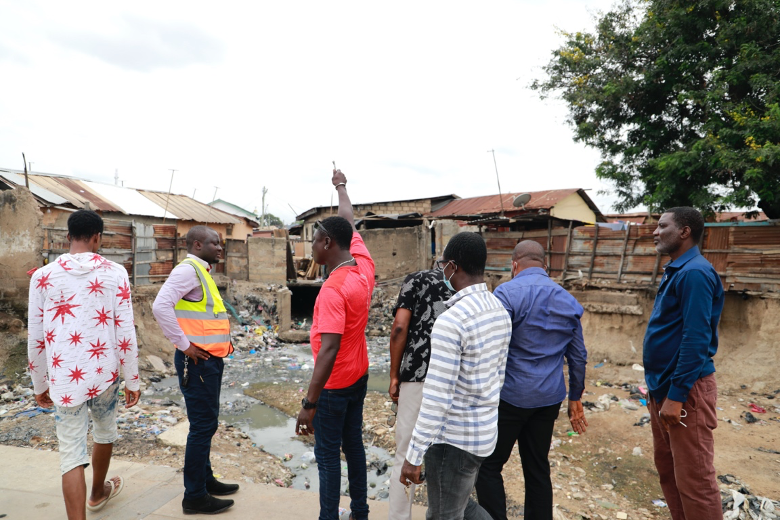 Nima Resident (in red) Narrating How the Poor Drainage Infrastructure Causes Flooding in Nima
As part of the introductory visit, the project team and community leaders took the detailed engineering design consortium on a tour of selected flood prone locations and sites in the three communities for upgrading works.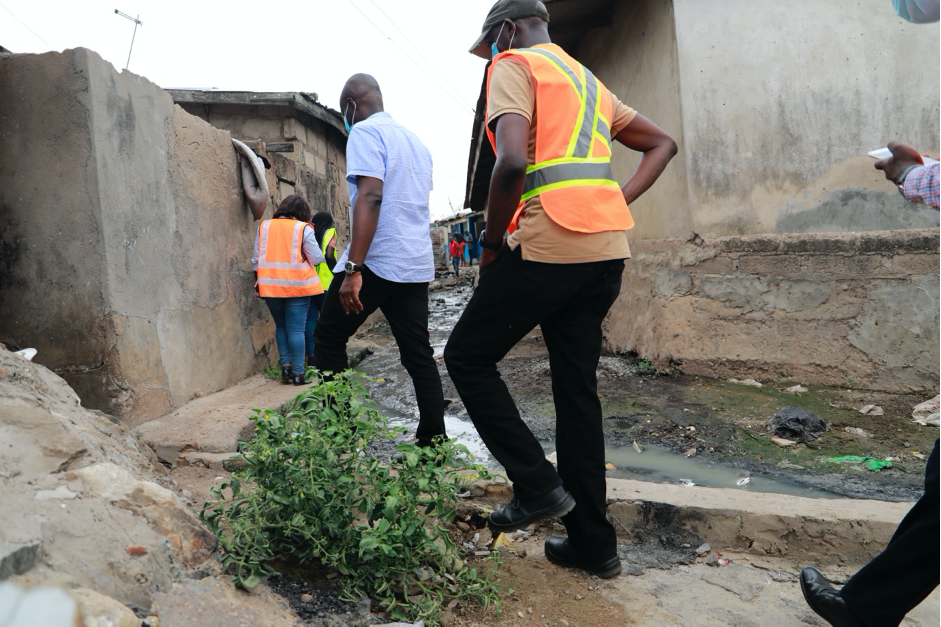 Patrick Katamora, the Team Lead for the detailed engineering design consortium said the introductory visit afforded his team a first-hand information on drainage, sanitation, and other environmental conditions in the three communities. He assured the GARID Project team and community leaders of Nima, Alogboshie and Akeyteyman of his team's readiness to work with the community members to develop and implement the proposed upgrading works.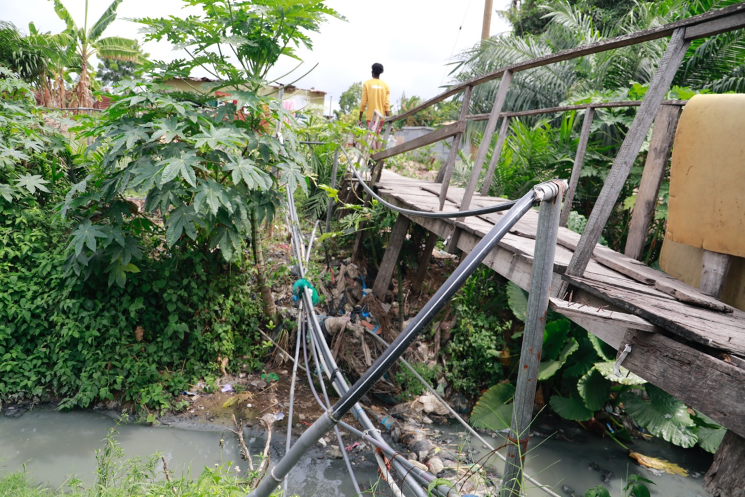 The GARID project is being implemented by the Ghana Government with credit financing from the World Bank and seeks to improve flood risk and solid waste management in the Odaw River Basin of the Greater Accra Region, and improve access to basic infrastructure and services in the targeted highly flood prone communities within the Odaw River Basin.