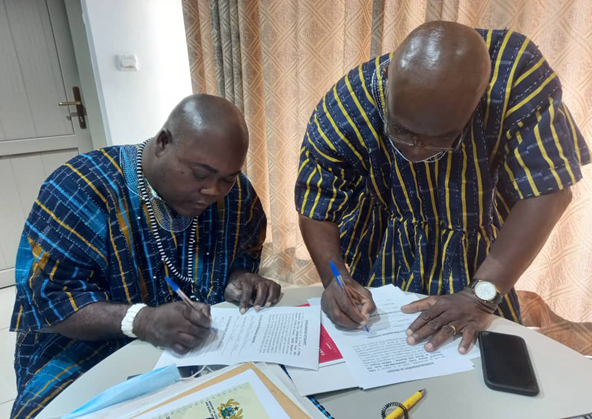 The Ministry of Works and Housing (MWH) has signed a Memorandum of Understanding (MoU) with the Ngleshi Stool of James Town and Accra Metropolitan Assembly (AMA) to use three (3) designated sites along the Odaw Basin and Korle Lagoon for temporary handling sites for dredged materials from the Odaw River.
The MoU which was signed at a short ceremony in the office of the Accra Metropolitan Coordinating Director, forms part of the measures the Greater Accra Resilient and Integrated Development (GARID) Project under the MWH is putting in place to dredge the Odaw drains of all sediments and enhance the discharge capacity of the drain.
Speaking at the event, the Coordinator of the GARID Project, Dr. Ohene Sarfoh, thanked the chiefs for releasing the land for the Project and assured them that the Project will put the sites to good use and return the designated parcels of land to the Ngleshi Stool of James Town when the Project comes to an end. "I want to assure the stool that only dredged materials will be handled on the parcels of land covered under this MoU. No other waste material shall be accepted at the designated Project sites. Subsequent to the completion of the Project, the sites shall be reverted to the Ngleshi Stool of James Town in the state of the land's current use and material texture." Said Dr. Ohene Sarfoh.
The Metropolitan Coordinating Director of AMA, Mr. Benjamin A. Armah, underscored the need for the Odaw drains to be dredged on regular basis noting that "The capacity of the Odaw channel and its associated drains have decreased due to siltation, improper disposal of waste into the drain and lack of routine maintenance of the basin. As a party to this agreement, the AMA will do everything within its powers to ensure the success of the GARID Project, I, therefore, appeal to the chiefs and residents of communities along the Odaw Basin to also cooperate with the Project to carry out this important national assignment."
A representative of the Ngleshi Stool, Nii Armah Kofi Akuabo, commended the Ministry of Works and Housing and the GARID Project for the efforts they are making to mitigate the impacts of flooding on the people of Greater Accra Region. He assured the Ministry of the Nglishi Stool's unflinching support for the Project stressing that "The chiefs and people of Accra will cooperate with the Project officials to ensure the successful implementation of the Project in the region."
The component one of the GARID Project is implementing climate resilient and flood mitigation measures including routine maintenance of the Odaw River basin, structural improvements of drainage systems and flood water management through upstream water conservation development of flood retention areas, as well as improving early flood warning and response capacity in the Greater Accra Region.